Fire Damage Restoration in Cookeville, TN
BBB A+ Rating
Talk to a live person 24/7
At your door in 60 minutes or less
Family owned and operated since 2009
Free Estimates
We bill directly to insurance
Financing Available!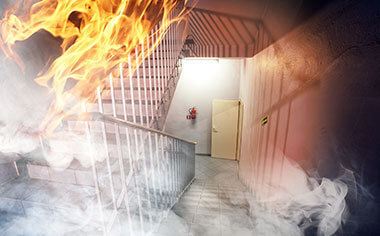 Fire Recovery & Restoration
Important Fire Damage Restoration Notes:
If the damage is minimal, and no city or state codes are prohibiting it, you can complete repairs yourself.
If the damage is extensive, we work with your insurance carrier no matter who. We advise hiring a specialty contractor that specializes in fire clean up and odor removal. You can choose any contractor you want, and the insurance company cannot demand a specific contractor.
Not going through insurance and paying for the reparations out of pocket? Inquire about our available financing.
Fire clean-up is not all about what you see; it's also about what you smell. We can help with that, too.
Fire clean up needs to happen NOW. Within about 48 hours, plastics, glass, and metals will start to discolor and corrode. Those effects may not be fixable.
The aftermath of a fire can be overwhelming. Remember, you are not alone when disaster strikes. We are qualified and trained in providing an evaluation of the proper steps it will take to effectively restore a structure after a fire. As a family-owned restoration company, Innovative Restorations has the skills it takes to initiate the water and smoke mitigation. You can have the confidence in our experience that we can handle the remodeling construction as well.
What We Offer
It may not seem like much, but when you start cleaning up after a fire, you may cause more damage than good. Oil in your skin may set stains permanently that could then require painting or replacement. We can help you with QUICK response and fast recovery.
FREE Estimate: Our services may cost less than your deductible.
FAST Response: Dependent on distance, typically we will be able to respond within an hour of your initial call.
LICENSED Contractor: We carry all the necessary insurance and certifications that will give you peace of mind.
EQUIPMENT Ready: We own plenty of ladders, tarps, rope, and tools to assure the task at hand is done right.
What To Do And Not To Do
What To Do:
Schedule for us to come to assess the damages.
Contact a furnace technician if your furnace has malfunctioned.
Make arrangements for housing if the damage is severe.
Exhaust smoke by opening windows. (weather permitting)
Remove any pets and plants if necessary.
Empty refrigerators and freezers if electricity is off and prop doors open to allow circulation.
Put a thin film of Vaseline on metal surfaces to protect it until it can be cleaned.
See the list below regarding valuables and your important items.
Photograph damages as you inspect your premises.
What Not To Do:
DO NOT wipe or attempt to clean fire residue from walls, ceilings, or absorbent surfaces.
DO NOT eat or consume any food or beverages exposed to contamination.
DO NOT hire a non-certified or non-accredited restoration company.
DO NOT live in the dwelling if the damage is too severe and safety is an issue.
What To Do With...
Food
Be very discerning when dealing with food. Throw out any food if burnt, if it does not have an air-tight seal, or if exposed to heat, smoke, or soot. In addition, do not use any canned foods if the can has bulged, is badly dented, or has rusted. You can keep refrigerated food if your refrigerator was not damaged in the fire. Your refrigerator will stay cold for 4 hours if it is well sealed. In the case that the power was turned off during the light and the refrigerator was turned off for more than 4 hours, discard the food.
Clothing & Textiles
Typically clothing and textiles (linens, towels, etc.) can often be cleaned and disinfected. Discard these materials only if burnt. Keep records of discarded items (snapshots and written list). Be extra cautious with baby and children's clothes.
Misc. Contents
All other content can be reused after they are well cleaned and disinfected, dust and soot free. Inquire to us, should you have questions or concerns.
Medicine & Cosmetics
Scrutinize medicines and cosmetics to make sure that they are clean of soot, dust, and all other chemicals that might have been in use to extinguish the fire. Discard medicines and cosmetics if contamination is suspected. Pre-opened items should be replaced. A childproof lid does not guarantee an air-tight seal.
Smoke Damage Repair
Smoke damage can be an overwhelming task to clean up. We know that when it happens, you are on high stress. We could help ease that stress by letting you know your home and belongings can be restored to their former state. Smoke clean up is not just as easy as cleaning up. It gets everywhere, and sometimes the places to clean haven't even been considered. Then there is the odor to remove. It IS possible to get that odor out of your clothing, contents, and home with the right equipment.